Artec Space Spider 3D Laser Scanner sale includes Artec Studio 14 Professional License Lifetime Subscription, brand new with 2-Year Artec Warranty
Artec Space Spider sale includes:
- Artec Space Spider 3D Scanner
- Artec Studio 14 Professional License Lifetime Subscription
- All original power, battery, charger and USB cords
- Pelican Hard Case
- Manuals
- 2-Year Artec Warranty
Artec Space Spider 3D scanner | Industrial 3D scanner of metrological accuracy
Artec Space Spider 3D scanner is designed specifically for CAD users who require absolute precision. It is ideal for manufacturing, reverse engineering, quality control and mass production. Coupled with Artec Studio software, the Space Spider is a powerful tool for engineers and industrial designers.
The Artec Space Spider is the ultimate industrial 3D scanner of metrological accuracy. The Artec Space Spider is a high-resolution 3D scanner based on blue light technology. It is ideal for capturing small objects or intricate details of large industrial objects, all with high resolution. The Space Spider offers extreme accuracy and brilliant color. It is ideal for molding parts, PCBs, keys, coins or even human parts. It offers new options for reverse engineering, quality control, product design and manufacturing.
Features:
2 Year Artec Warranty
Up to 0.05 mm accuracy with no need for targets
Capture small objects or fine detail with high precision
Fast scanning speed 7.5 fps: High accuracy does not have to be time consuming. Artec Space Spider process up to one million points per second!
High 3D point accuracy 0.05 mm: Make extremely accurate 3D models of small industrial objects or sections of larger objects in fine detail
Texture resolution 1.3 Mpx: Make full color 3D replicas of your object
Impressive 3D resolution 0.1 mm: Capture the geometry of your items with astonishing precision. Space Spider can even render the ridges of your fingerprint, that's how much detail they can pick up
Battery compatible for true portability: Connect the lightweight, 0.85kg 3D scanner to the Artec battery pack, which provides up to 6 hours of power, and you can scan practically anywhere, even in areas where there is no source of electricity.
Safe to use: The blue structured light technology used is absolutely safe for scanning people, as well as inanimate objects.
No targets & calibration. Just point and shoot: No need for preparation, just plug in the scanner and point it around the item as you would with a video camera. Simple.
Bundling and easy integration: For capturing larger objects, or for creating an automatic scanning system, several 3D scanners can be bundled and synced together. You can also integrate the scanners into your own customized solutions, fit for industrial applications, using the free of charge Artec Scanning SDK.
Reverse engineering: Product design, Customisation, 3D documentation
Industrial design and manufacturing: Reverse engineering, Quality control, Rapid prototyping, Aerospace
Healthcare: Orthopedics, Prosthetics, Plastic surgery, Custom wheelchairs
Science and education: Research, Training, Online museums
Art and design: Heritage preservation, Architecture, CGI, Fashion
Artec Space Spider 3D Laser Scanner General Spesification
3D resolution, up to: 0.1 mm
3D point accuracy, up to: 0.05 mm
3D accuracy over distance, up to: 0.03% over 100 cm
Colors: 24 bpp
Texture resolution: 1.3 mp
Light source: blue LED
Working distance: 0.2 – 0.3 m
Linear field of view, H × W @ closest range: 90 × 70 mm
Linear field of view, H × W @ furthest range: 180 × 140 mm
Angular field of view, H × W: 30 × 21°
Video frame rate, up to: 7.5 fps
Exposure time: 0.0005 sec.
Data acquisition speed, up to: 1 mln points / sec.
Multi-core processing: Yes
Output formats
3D mesh formats: OBJ, PLY, WRL, STL, AOP, ASCII, Disney PTEX, E57, XYZRGB
Formats for measurements: CSV, DXF, XML
3D point cloud formats: BTX, PTX
Common specifications
Weight: 0.8 kg (1.8 lbs)
Dimensions, H × D × W: 190 × 140 × 130 mm
Power consumption: 12V, 24W
Interface: 1× USB 2.0, USB 3.0 compatible
Processing capacity: 40 mln triangles / 1 GB RAM
Requirements
Processor: Intel I5 or I7
Memory: 18 GB
Video cards: NVIDIA, AMD, or Intel
OS: Windows 7, 8, 10 – x64
Free disk space: 300 MB for installation
Artec Studio 13 Professional | Advanced 3D scanning, processing and editing software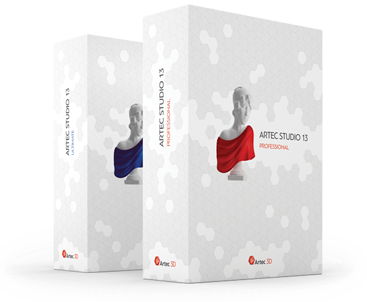 Create professional 3D models with the most comprehensive software for 3D scanning and data processing on the market today. Enjoy a wide range of innovative features, including the cutting-edge Autopilot mode that expertly guides you through the whole post-processing pipeline, automatically choosing the best algorithms for your data, so you can watch your high precision model being put together before your eyes.You can also take full control of your results with the wide variety of advanced features available.

3D Radar for simple, guided 3D scanning

Get the best results effortlessly with the smart Autopilot mode

Quick and powerful 3D data processing at your fingertips