New FARO Focus M70 for sale, 1-year Faro warranty, including Faro SCENE software licence, standard accessories and tripod.
Faro FocusM 70 sale includes:
Faro FocusM 70 Laser Scanner with HDR photography, GPS, Compass, Altimeter (Barometer), Dual-axis Compensator, WLAN, IP rating 54, Calibration Certificate, Quick Start Guide, Rugged Transport Case
Battery Power Block, Battery Power Dock, 90W Power Supply
AC power cable
External power supply unit with cable
Optic Cleaning Fluid, Optic Cleaning Tissues
32GB SD Card, SD Card Reader, SD Card Cover
Allen Wrench
Faro Scene Licence (USB stick with SCENE software and manual)
Scanner transport and carry case
Tripod
1-Year Faro warranty
FARO Focus M70 Laser Scanner, short-range professional grade laser scanner, a powerful 3D laser scanner specifically designed for both indoor and outdoor applications that require scanning up to 70 meters. The ultra-portable device enables fast, straight-forward and accurate measurements of small construction sites, small-scale facades, complex structures, production and supply facilities and manageable crime and accident scenes. Combining professional grade scanning technology with authentic mobility and ease-of-use, the new device offers reliability, flexibility, and real-time views of recorded data. The 3D scan data can easily be imported into all commonly used software solutions for architecture and construction, forensics and accident reconstruction or industrial manufacturing.
FARO Focus M 70 Laser Scanner technical spesification
Range: 0.6 – 70m
High Dynamic Range (HDR) Exposure Bracketing 2x, 3x 5x
Measurement Speed: up to 488,000 points/second
Ranging Error: ±3mm
Sealed Design – Ingress Protection (IP) Rating Class 54
On-site Compensation
Integrated GNNS and GLONASS
Field of View (vertical³/Horizontal): 360?/360?
Max. Vertical Scan Speed: 97Hz
Laser Class: Laser Class 1
Weight: 4.2kg
Size: 230 x 183 x 103mm
Faro SCENE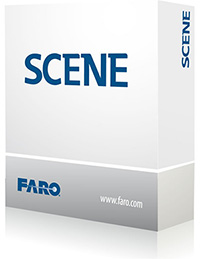 SCENE is specifcally designed for all FARO laser scanners. The software processes and manages scanned data both effciently and easily by using the automatic object recognition and scan registration. SCENE is an extremely user-friendly software that allows scans to be automatically combined. The resulting point cloud can be viewed in three dimensions. All the scans are available in color and as high-contrast intensity images.
Automated target-less scan registration
SCENE WebShare Cloud integration
Super-crisp visualisation
Easy processing of large scan projects
Plug-Ins for extended functionality
Homogenisation of point clouds
Downloads