Used Leica RTC360 for sale, like new, used as a demo unit, everything is still in excellent perfect ready to working to scan and works flawlessly with Leica working standards. Fully serviced and calibrated by Leica, guaranteed by Leica authorised distributor and service partner with 1 year warranty for both parts and labour
Package includes;
Leica RTC360 Laser Scanner
864 515 Cyclone REGISTER 360 Permanent
4X GEB361 Lithium-Ion battery, 11.1V, 5.6Ah, rechargeable
2X Leica MS256 Industrial USB 3.0 Stick 256GB
Leica GST80 Tripod for RTC360
636 767 Leica RTC360 Rain Cover
Leica GVP736 Backpack for RTC360
Leica GVP730 Transport Container for RTC360
Leica RTC360 USB Documentation Card
Leica GAD120 Tribrach Adapter
Leica GDF323 Tribrach
GKL341 Multi-bay charger Prof 5000, Charges up to 4 batteries, including power cable
310.13-Li-Ion batteries GEB211, GEB212, GEB221, GEB222, GEB241, GEB242, GEB331 and GEB361
AC adapter included, AC power cable to charger for Rugby/Javelin

Leica RTC360 3D Laser Scanner
Automatically pre-register point cloud data in the field to quickly conduct quality control checks, improve productivity and make better-informed decisions on site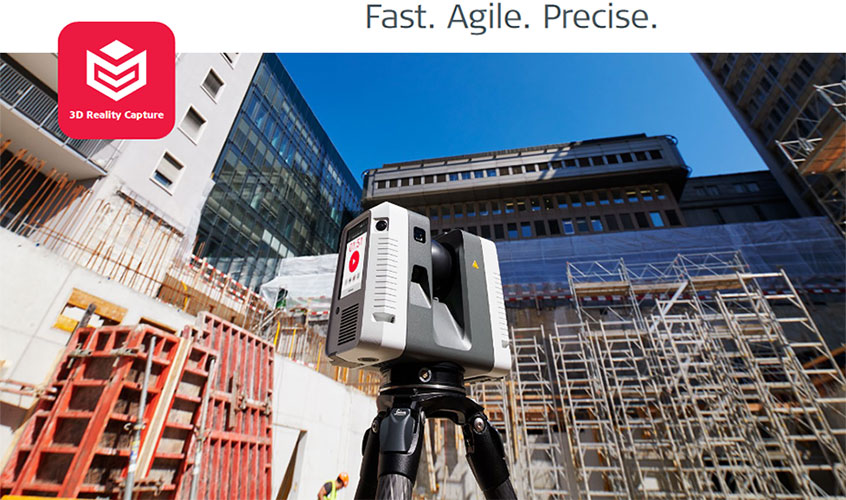 The Leica RTC360 3D reality capture solution empowers users to document and capture their environments in 3D, improving efficiency and productivity in the field and in the office through fast, simple-to-use, accurate, and portable hardware and software. The RTC360 3D laser scanner is the solution for professionals to manage project complexities with accurate and reliable 3D representations and discover the possibilities of any site.
Highly portable, highly automated, intuitive and designed for maximum productivity, the RTC360 solution efficiently combines the RTC360 a high-performance 3D laser scanner, Leica Cyclone FIELD 360 mobile-device app for edge computing for automatically registering scans in real time, and Leica Cyclone REGISTER 360 office software to integrate your 3D model seamlessly into your workflow.
Capture scans, including enriching High-Dynamic Range (HDR) imagery, in less than two minutes.
Automatically record your moves from station to station to pre-register your scans in the field without manual intervention.
Augment your data capture with information tags illustrating the opportunities for better planning, reflect site reality, and boost your teams' situational awareness
Directly publish your captured data from Cyclone FIELD 360 to Leica TruView Cloud to quickly exchange project information prior to import and registration
Fast
The Leica RTC360 laser scanner makes 3D reality capture faster than ever before. With a measuring rate of up to 2 million points per second and advanced HDR imaging system, the creation of coloured 3D point clouds can be completed in under two minutes. Plus, automated targetless field registration (based on VIS technology) and the seamless, automated transfer of data from site to office reduce time spent in the field and further maximise productivity.
Agile
Small and lightweight, the Leica RTC360 scanner's portable design and collapsible tripod mean it's compact enough to fit into most backpacks, ready to be taken anywhere. Once on-site, easy-to-use, one-button operation makes for fast, hassle-free scanning.
Precise
Low noise data allows for better images, resulting in crisp, high-quality scans that are rich in detail and ready for use in a range of applications. Combined with Cyclone FIELD 360 software for automated registration in the field, the Leica RTC360 scanner offers outstanding precision that can be checked on-site.
Pre-registraton in the field
As part of the RTC360 solution, the Cyclone FIELD 360 app links the 3D data acquisition in the field with the laser scanner and data registration in the office with Cyclone REGISTER 360. On-site the user can automatically capture, register and examine scan and image data. The user interface combines easy handling of complex calculations with a graphical user guidance that offers a remarkable user experience, also for novice users.
LEICA RTC360 PRODUCT SPECIFICATIONS
GENERAL
3D Laser Scanner
High-speed 3D laser scanner with integrated HDR spherical imaging system and Visual Inertial System (VIS) for real time registration
PERFORMANCE
Data acquisition
<2 mins for complete full dome scan and spherical HDR image at 6mm @ 10 m resolution
Real time registration
Automatic point cloud alignment based on real time tracking of scanner movement between setups based on Visual Inertial System (VIS) by video- enhanced inertial measurement unit
Double scan
Automatic removal of moving objects
SCANNING
Distance measurement
High-speed, high dynamic time of flight enhanced by Waveform Digitising (WFD) technology
Laser class
1 (in accordance with IEC 60825-1:2014), 1550 nm (invisible)
Field of view
360° (horizontal) / 300° (vertical)
Range
Min. 0.5 - up to 130 m
Speed
Up to 2,000,000 pts / sec
Resolution
3 user selectable settings (3/6/12 mm @ 10 m)
Accuracy
Angular accuracy 18"
Range accuracy 1.0 mm + 10 ppm
3D point accuracy
1.9 mm @ 10 m
2.9 mm @ 20 m
5.3 mm @ 40 m
Range noise
0.4 mm @ 10 m, 0.5 mm @ 20 m
IMAGING
Camera
6 MP 3-camera system captures
432 MPx raw data for calibrated 360° x
300° spherical image
Speed
1 minute for full spherical HDR image at any light condition
HDR
Automatic, 5 brackets
NAVIGATION SENSORS
Visual Inertial System
Video enhanced inertial measuring system to track movement of the scanner position relative to the previous setup in real time
Tilt
IMU based, Accuracy: 3' for any tilt
dditional sensors
Altimeter, Compass, GNSS
OPERATION
On scanner
Touch-screen control with finger touch, full colour WVGA graphic display 480 x 800 pixels
Mobile devices
Leica Cyclone FIELD 360 app for iPad or
Android tablets including:
- Remote control of scan functions
- 2D & 3D data viewing
- Tagging
- Automatic alignment of scans
Wireless
Integrated wireless LAN (802.11 b/g/n)
Data storage
Leica MS256, 256 GB exchangeable USB 3.0 flash drive
DESIGN & PHYSICAL
Housing
Aluminium frame and sidecovers
Dimensions
120 mm x 240 mm x 230 mm / 4.7'' x 9.4'' x 9.1''
Weight
5.35 kg / 11.7 lbs, nominal (without batteries)
Mounting mechanism
Quick mounting on 5/8" stub on lightweight tripod / optional tribrach adapter / survey tribrach adapter available
POWER
Internal battery
2 x Leica GEB361 internal, rechargeable
Li-Ion batteries.
Duration: Typically up to 4 hours
Weight: 340 g per battery
External
Leica GEV282 AC adapter
ENVIRONMENTAL
Operating temperature
-5° to +40°C
Storage temperature
-40° to +70°C
Dust/Humidity
Solid particle/liquid ingress protection IP54 (IEC 60529)
Leica Cyclone FIELD 360, View, Check, Add
View: As part of the Leica Geosystems Reality Capture 360 solution, the high- performance Leica Cyclone FIELD 360 mobile-device app is the perfect field companion for the Leica RTC360 3D laser scanner.
With its intuitive user interface, remote scanner control and on-site point cloud display, navigation is a breeze - even for novice users – with full imagery and point cloud data delivered directly to your tablet using edge computing technology.
Check: Direct data access and visualisation are the foundation for quality control in the field; with Cyclone FIELD 360, automatically pre-registered point cloud data enables users to quickly conduct on-site quality control checks, improves productivity and makes for better-informed decisions in the field.
Add: For improved registration in Leica Cyclone REGISTER 360 post-processing, and to add extra value and information to 3D data, Cyclone FIELD 360 enables on-site tagging of measurements, videos, images, text or voice files to the point cloud geometry simply by using your table
LEICA CYCLONE FIELD 360 PRODUCT SPECIFICATIONS
GENERAL
iOS or Android app
In-the-field app for remote scanner control,
data management, quality control, data tagging
and automatic pre-registration on-site
SCANNER CONTROL
Remote scanner control with access to all control features
DATA MANAGEMENT
Create, edit and delete scan jobs
DATA COMMUNICATION & TRANSFER
Communication
Bi-directional wireless communication between scanner and table
Transfer

Automatic transfer of scan data from scanner to tablet; automatic synchronisation of all app created data from tablet to scanner

QUALITY CONTROL
Point cloud navigation
Navigate single and registered point clouds in 2D map view, 360° panoramic view or in full 3D view
Point cloud display
Display point clouds in full HDR colour, rainbow intensity or grey-scale mapping
Measurement
Take and tag measurements within the point cloud
DATA TAGGING
Add image, video, voice, text or any other file-based tags to point cloud
PRE-REGISTRATION
Auto alignmen
Visual Inertial System (VIS) technology based automated alignment of scan setups for targetless cloud-to-cloud registratiON
Visual alignment
Move and rotate scan setups for a quick visual alignment for cloud-to-cloud registration
INTEROPERABILITY
Sensor hardware
Leica RTC360 laser scanner
Cyclone software

Leica Cyclone REGISTER 360 1.5 or higher, requires active REGISTER 360 license foractivation

SYSTEM REQUIREMENTS
Platform
Android tablet computer running on Android 6.0
or higher, e.g. Samsung Galaxy Tab S3
Apple iPad tablet computer running on iOS 11.1
or higher, e.g. iPad Pro with 10.5" scree

AUTO-ALIGNED POINT CLOUDS IN 2D VIEW MODE 360° VIEW OF POINT CLOUD
Downloads